Welcome to our new forum! All existing NW Cryobank forum users will need to reset their passwords. Click forgot password and enter your email address to receive the link. Email us at
[email protected]
with any questions.
February 15th, 2012 the day that changed our lives forever :)
OneSmallStep
Posts: 1,685
Here is our birth story, my wife wrote it out and I edited it adding in things I remember as well. So it might seem a little off in places since it's both of us saying something.
We went in for our scheduled Biophysical profile since I was a week overdue at 41 weeks. We were told that the placenta was showing some signs of wear and that his water was looking a little low but nothing too much to worry about. After the profile we decided to go to lunch with D's family but got a call from the midwife to come in that day for our non-stress test instead of doing it the next day, as was planned, at our prenatal appointment. We got a little excited hoping that it would show signs that we needed to have this baby sooner rather than later since we were very excited to meet our Lil man.
We went in for the non-stress test and his heartbeat was really strong. He had moments where he would grab his cord which would startle him and cause his heartbeat to go high. The midwife looked at the read out and wasn't too worried about the baby because he sounded so good. She was worried about my blood pressure and how high it seemed to be going and not coming down. Typically my bp has always been low, and during pregnancy the highest it had ever gotten was 128/80, now it was 158/91! She gave me a homeopathic pill called arnica to lower my blood pressure. I responded well to it and it allowed my blood pressure to go down and stay down.
Once my bp was lowered she then told us my options. The one extreme was that we could just wait it out as long as my blood pressure stayed normal and hope labor started naturally in the next few days but if my bp changed and couldn't come back down we'd have to go to the hospital or we could go to the hospital right then and try to have the baby. She then said she had an option in between the other two and that was to try and start labor naturally. Since the baby was so high up he wasn't putting pressure on my cervix to dilate. They put a Foley catheter in the cervix and then fill it up with lots of sterile water. It would fall out when I was about 6-7 cm dilated.
We asked if there were any side effects to this, or anything we needed to worry about. She said that midwives have been doing this all over and that they've recently started doing it at their birth center and have had a lot of success with it. So we agreed to try this out! They said it would probably take 1-2 days for it to work, and that we'd stay at the birth center until Stitch showed up.
They inserted the catheter around 6pm and that definitely started some contractions. They started coming every 8-10 minutes and lasting about 30 seconds. At around 9 the midwife asked how aggressive I wanted to be about starting labor. She said we could sleep tonight and pop my water tomorrow morning or we could try nipple stimulation with a breast pump to get labor going. I decided to try to get labor going since the contractions were coming pretty regularly. At about 10:30 I decided I was pretty tired and was about to give up and go to bed. I went to the bathroom and as I went to stand up out fell the Foley catheter.
I was a little shocked that it happened that fast. I told the midwife what happened and she was shocked too. The last few times they attempted this, the women would dilate but the balloon would not fall out and had to be taken out. She went ahead and checked me and said I was at a 6 and easily stretched to a seven! I (OSS) heard the midwife talking with my mom, she said that this was about the time that typically we would have been home and starting to notice the labor as something to call the midwife about. My mom asked DW if she wanted to know about where her progress was, and she said no, so we didn't mention that to her until after the fact.
The midwife had me go walking and moving my hips in a hula kind of formation to try and break my water. It wasn't working so I went to bed but had a hard time sleeping and at 3:30 I woke up and could no longer sleep. I felt like I had to move around so I sat on the birth ball and rocked my pelvis until about 5:30 when I woke the midwife. The contractions were now stronger and about 2-3 minutes apart lasting for about 40 seconds. I attempted to rock my pelvis but then tried to rest some in between contractions.
At about 10 am I was feeling the contractions really strongly and told the midwife that they were really starting to hurt. She asked if I wanted to take a hot shower to help or lay in the tub with the jets for awhile. I told her yes but then another contraction hit and she asked to check me to see if I was close to transition and would need the birth pool instead. She checked me and found that my cervix had a slight band that she helped to break up to allow my contractions to be more efficient. I was now 7cm dilated and my water was really bulging out.
The midwife let me get in the tub for about 2 almost 2.5 hours. She then had me walk around the birth center to try and make my water break. Nothing was working and DW was getting really frustrated. I could see it in her eyes, so when she went in to the bathroom I gave her a pep talk. I reminded her how important it was to her to do this. How she was doing an amazing job, and that she had the power within her to do this! I should note, prior to labor we had actually talked about how she would want me to help her, whether she would want a pep talk. Also, we had a safe word set up so that if she really wanted an epidural that she would say the word and I would know that she really felt that way.
The midwife had me lay on my side for 15-20 minutes and then sit on the toilet for 15-20 minutes to try and break my water. At about 4:30 my water was still bulging and refused to break so the midwife offered to break it for me. I agreed and when she broke it I (OSS) heard her go "meconium my a**!" and "look at all the water…" We later found out that the u/s tech had told her that she saw meconium in the water and that the water was nearing being low and that that was why they had us come in for the NST the day early, She said that it's typically between 5 and 25, and that DW's water was at a 6. When she broke the water there was NO meconium in it and plenty of water as well.
Once the water was broken contractions really started to pick up! I attempted to walk around outside and then came inside where it was cooler and we walked around the building. After about two laps I laid down and transition kicked in hard core! I started really moaning during contractions and tossed in turned trying to get comfortable. The midwife started setting up the pool for me to use. I would really strong contractions and then fall asleep without realizing it. I thought my contractions were just coming none stop. It was really starting to get painful at this time and finally around 6:30 I was allowed to get in the tub.
The hot water felt so good on my back and I continued to sleep in between contractions. At 7:30 I could not stand the pain anymore. I was tossing and turning in the water and felt like I needed to climb out of my skin. The contractions seem to last forever and I felt a lot of pressure to push! The midwife checked me again and said I was 9.5 cms!
The pain was so intense and the urge to push was strong so the midwife helped by pushing my anterior lip over the baby's head during a contraction. The pain was intense but definitely felt better with her applying pressure. Then the head started to move down lower in my cervix. I know I told everyone several times that I couldn't do it anymore and had to be reminded to breath several times.
The midwife told me that on my next contraction I could push and push I did! I would push about 3 times throughout 1 contraction. Some contractions I would push so hard that my body would literally shake with the effort and the force I could feel moving through me was intense but definitely worth it. OSS: She did amazing! The midwife explained how to do it and she just picked up on how to push right away. I was totally in awe!
After about 5 contractions his head started to appear. The midwife applied counter pressure to my labia to help prevent tearing. I had his head pushed out about half way and had to stop to wait for another contraction. It was so cool to feel his head coming out of DW, it felt so squishy!
On the next contraction I pushed as long and hard as I could and his head popped out. I tore a little bit here and the midwife had to take the cord off of the baby's neck. On the next contraction I pushed out his shoulders and D caught the baby. The midwife helped him bring the baby to my chest. He rested there until his cord stopped pulsing. OSS: We got to feel his cord pulsing, it was really cool. I was so amazed and in awe of how great my wife had done to get our son into the world!
They did his APGAR score while he was skin to skin with me. Once the cord stopped pulsing they let Danny cut it and then had him hold the baby to help me out of the water to deliver the placenta. They helped dry me off and got me lying down in bed. I waited about 10 minutes to push out the placenta and then the baby was brought back to me to lie on my chest.
He was so wide awake and alert. He was either being held by Danny or me the whole time. When they had to give him his eye drops and vitamin K they did it on the bed beside me. Then I went to the exam room and had to have about 2-3 stitches and then they helped me latch the baby onto my breast to start breastfeeding. He wasn't really alert enough to start breastfeeding so the midwife gave him 2 drops of formula in a syringe to bring up his blood sugar and then he immediately latched onto my breast and fed like a champ. My nipples are inverted so I had to use the breast pump to help bring them out to get his latch correctly.
It has been an amazing 10 days having him around. Everyone is constantly commenting at how much he looks like me (OSS) and also that he is a perfect blend of DW and myself. It's such an amazing feeling to have him here! We've had ups and downs with us trying to figure out what he wants and what not but all in all I wouldn't change it for anything in the world!
And here is what I know y'all really read through all of that looking for, some pictures of him:
Right after he was born he was so alert!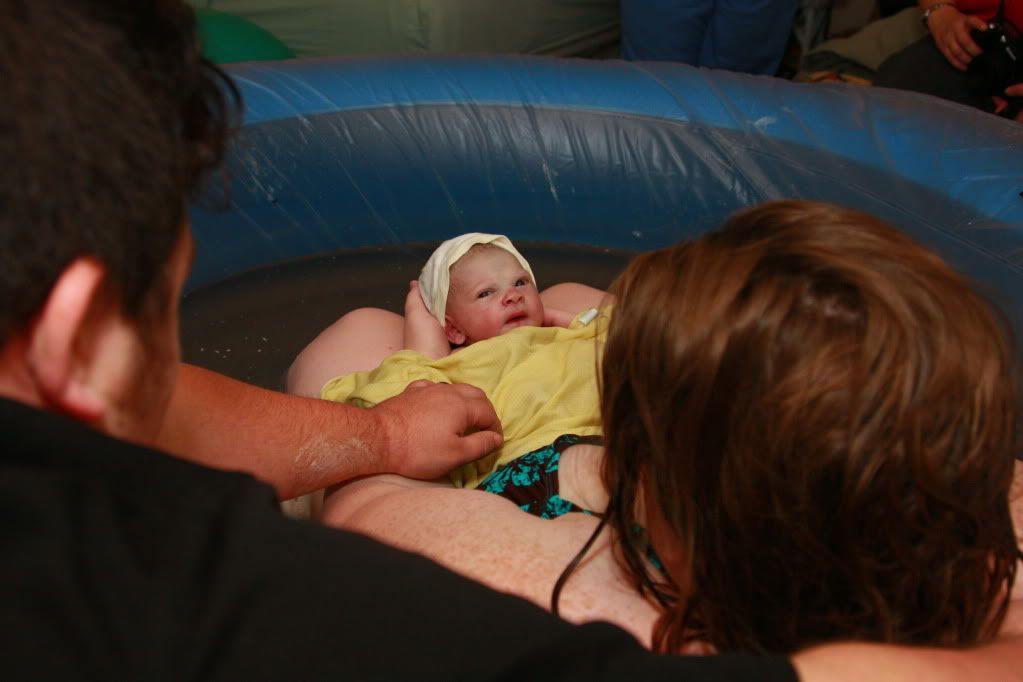 Me washing his hair a few hours after birth: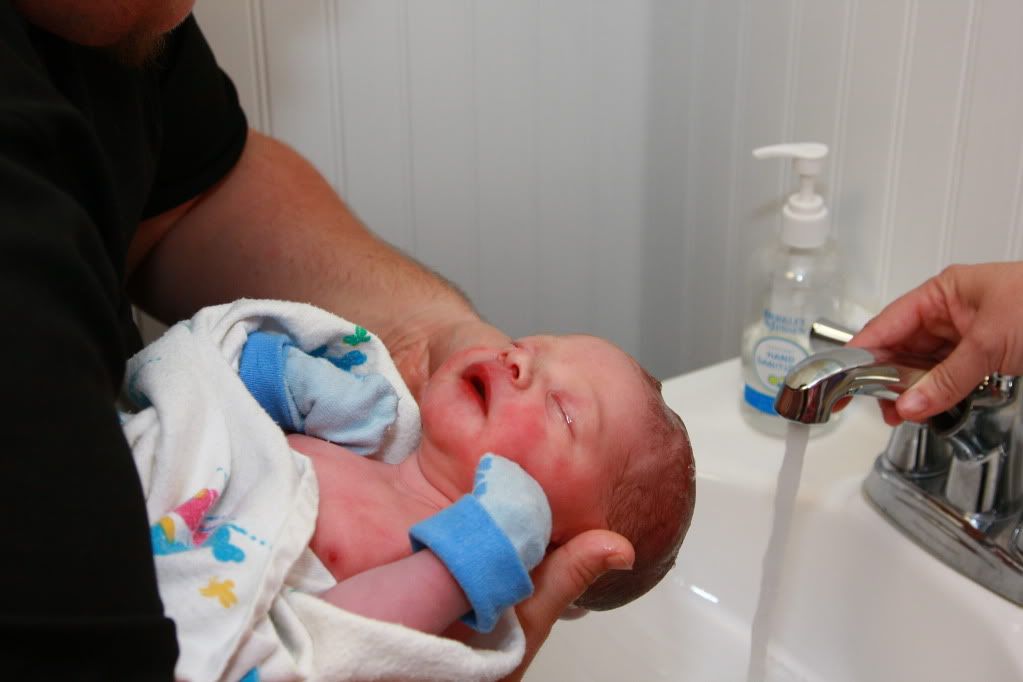 Stitch apparently would suck his thumb and play with his ears a lot on the inside because he loves doing it now that he's out!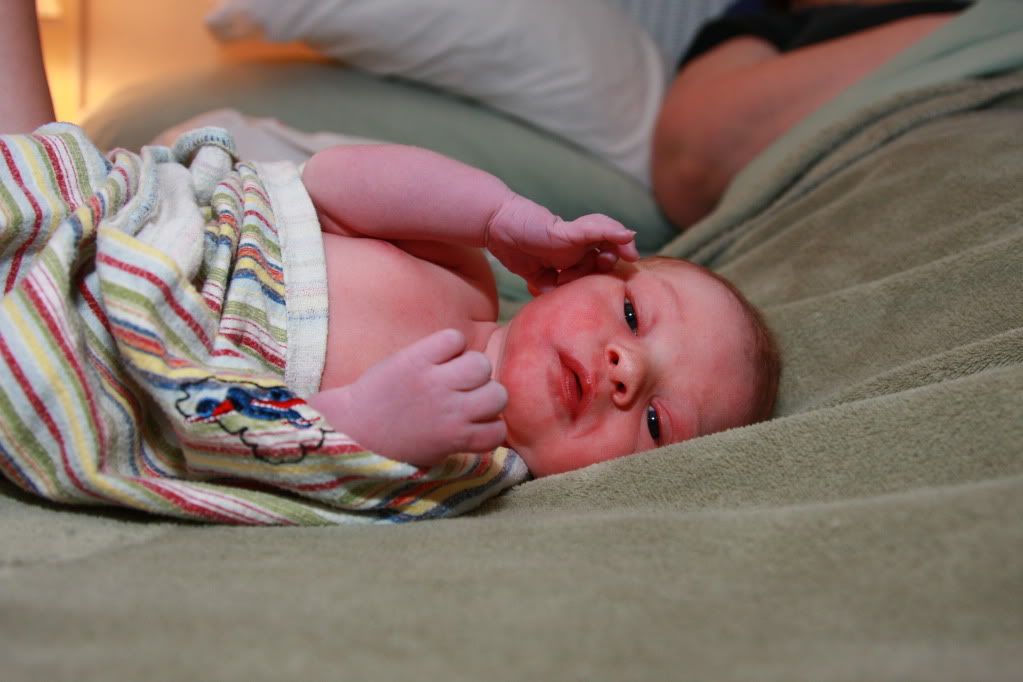 18 hours old here on the way to the pediatrician for his checkup (2.16.2012)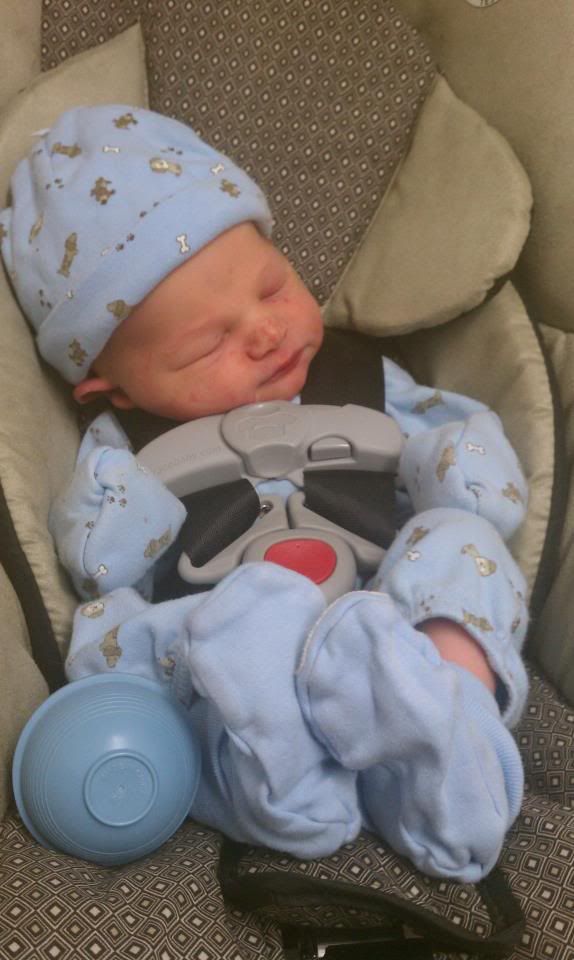 After his brit milah (circumcision) he was asleep on Daddy (2.23.2012)
Hubby of kopykat451
TTC #1 5/16/11 = BFP 14 DPI / TTC #2 11/16/12 = No O; 4/12/13= BFN; 6/9/13 = BFP!! (11 DPI) - MC 5wk5dys / TTC#3 3 BFN's and 4th try 10/21/13 = BFP!!!! (Squinter at 10dpi!)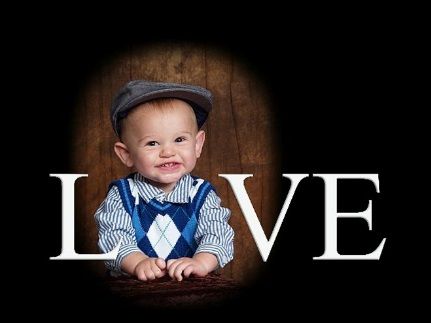 Tagged: