Welcome to our new forum! All existing NW Cryobank forum users will need to reset their passwords. Click forgot password and enter your email address to receive the link. Email us at
[email protected]
with any questions.
The first 6 1/2 weeks! (kind of long and lots of pictures at the end!)
OneSmallStep
Posts: 1,685
Whew, where to begin? I swear these weeks are flying by! I've been meaning to post an update for a while but well haven't had a lot of down time to do it. So here we are.
Stitch has been an amazing addition to our life, it's crazy how fast he's become such a normal part of our every day routine. He's grabbing for things more and holding on to them (today we had another incident of him grabbing my beard, but this time not letting go!) He loves to swing, and use his bouncy chair, especially when it's outside while we are gardening, he'll just chill in his bouncy chair happy and content. He's doing great with tummy time, and is holding his head up more and more. We've noticed he's started to notice the turtles on his swing, and today I laid him in his crib under his mobile and he was watching it go around. I've found white noise is a God-send, and that I can easily recreate the sound of a vacuum with my own vocal chords. He loves to suck on his thumb/fingers/hand and will also hold his ear while doing so.
We're still figuring out sleeping arrangements, but are hopeful that we might be able to get back into our bedroom soon. Currently DW is sleeping in a recliner with him on her all night, and I am camping out on the couch. He's recently started smiling, though we are afraid we might be teaching him not too as 9 out of 10 times we tend to squeal with delight and he stops. We really gotta stop doing that! We hit a bit of a snag in the road (which I'll go into more detail in a second,) but over all it has been an amazing 6 weeks!
At his one month visit he gained an inch in height and head width. Unfortunately, that's about all he was gaining as his weight was only 7lbs! He had lost down to 6.9 the day after birth, and was gaining good at 2 weeks but by the time his month visit came he had stalled out. The pediatrician said he wanted to see him again in a week and wanted to see him gain 1/2 a pound or else we'd be supplementing formula. We are EBF, and for our family have chosen to try to stay away from formula. I'm not trying to start anything of course, it's just what we feel works best for our family. :cool: So when he said that we worried a bit. DW messaged our midwife and she advised us to come in the next day to do a weigh/feed/weigh to see if we could figure out what was going on.
The next day the midwife was asking about DW's intake, we told her how healthy we've been eating. Turns out while we were making up the calories and having DW drink lots of water, her protein had gone done. So the midwife advised us to up her protein to 100grams a day. She told us about this recipe with chocolate flavored whey protein powder shake mixed with peanut butter, and advised DW to eat at least one ball with every feeding. She then had us come in on Mon and Weds to do another weigh/feed/weigh so we would not be so blindsided at the pediatrician. Oh and the first weigh/feed/weigh showed that he was getting approx 1 1/2-2 ounces which was right on target for his age.
Just a note, that's one thing that really surprised us, we had had no clue he wasn't gaining enough. He wasn't overly fussy, or acting hungry. He was getting between 6-8 diapers a day, lots of pee diapers along with at least 1 poop.
So we went ahead and did that, we finally saw the protein seeds show back up in his diapers, and figured okay he's got to be gaining. At the midwife on Wednesday he was 7lbs 8 oz, on his birth scale, prior to eating, and he was naked... the next day at the pediatrician he was 7lbs 4 oz, naked. The ped said he was glad he was gaining, but since he hadn't quite reached the goal he wanted us to come on back in the next week. He said since he was gaining he wouldn't have us supplement formula at this point.
The midwife messaged asking us how it had gone, and we advised her on what happened. She again had us come in to do weigh and feeds. On Monday we found he was barely gaining, and he only seemed to be getting about 1 1/2 ounces a feeding. And with him getting older, he should be going up so this wasn't good. The midwife called around to her lactation consultant friends as she was feeling this is starting to go above her knowledge base. She advised us to start supplementing his feeding using the frozen breast milk DW had pumped early on (around 2weeks) in preparation for when she works. We think that when she stopped pumping around 2- 2 1/2 weeks is when the issues might have started because we were letting Stitch sleep about 6 hours at night so we were skipping a feeding without pumping to make up for it.
The next day (Tuesday) we came in and he had gained 2 oz! Great we thought! Then we did a weigh/feed/weigh and found that we were down to only 1 ounce a feeding! The midwife had us pick up mother's milk and fenugreek. When we went to the store we asked for both, and they had us get something called Mother's love (it's suppose to be a mix of both things.) After the midwife we went to see a lactation consultant and she advised that what we had bought wasn't as good as straight up Fenugreek but that we could try it for a few days and see if it worked. She also loaned us a hospital grade pump and is having DW pump or feed every hour.
On Wednesday we went back to the midwife for DW's 6 week checkup (she's doing good, btw!) We also did another weigh/feed/weigh and he got 3 ounces in a feeding!! Needless to say we were a bit stoked! :cool: He was at 7lbs 7 1/2 ounces before feeding and 7 lbs 10 1/2 ounces after feeding!
And that brings us to Thursday the 2nd ped appointment. We had just finished feeding him before they weighed him, so I think we are a couple ounces off... but his weight was 7lbs 12 oz! So really probably around 7lbs 9 oz, but either way he is gaining and we are happy to see this is working. Especially since DW has been pumping and feeding so much lately.
We checked back in with the LC today and she advised us to go ahead and switch to the actual fenugreek, so we bought that today. We know it takes about 48-72 hours for the Fenugreek to start working, so we are hopeful that these past 2 weeks will have just been a small learning curve/blip in the road. I'm amazed by my DW daily that she is doing so much to stick to giving him what we feel is best for him. (Again, nothing at all against anyone who uses formula! It's just for our family how we feel. ) Speaking of which, it's time for me to wake her so she can pump and feed him. Hopefully in two weeks when we go back to the pediatrician we will have an even better 2 month report! :cool:
And here are a few pics from the past few weeks:
Four days old: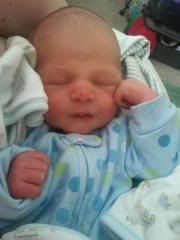 Wearing the Yoda hat DW made him, at 2 weeks old: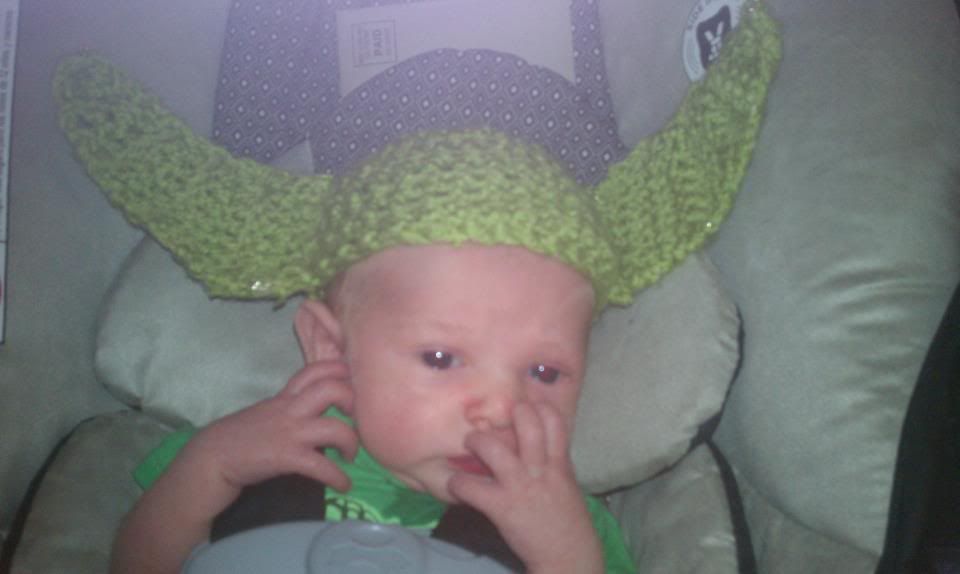 Chilling on Daddy's lap with the family dog, around 2 weeks old: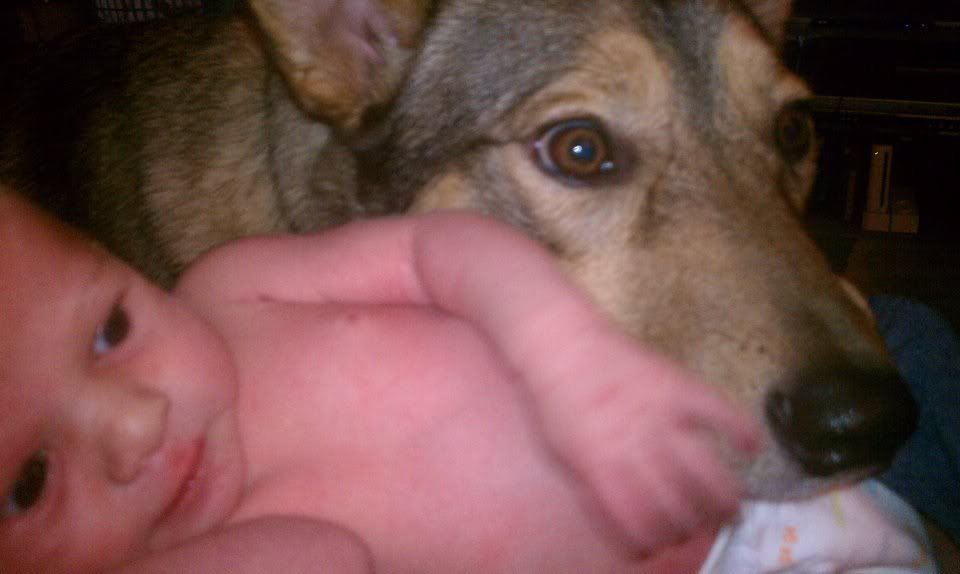 At Disney with his first set of "ears," around 3 weeks old: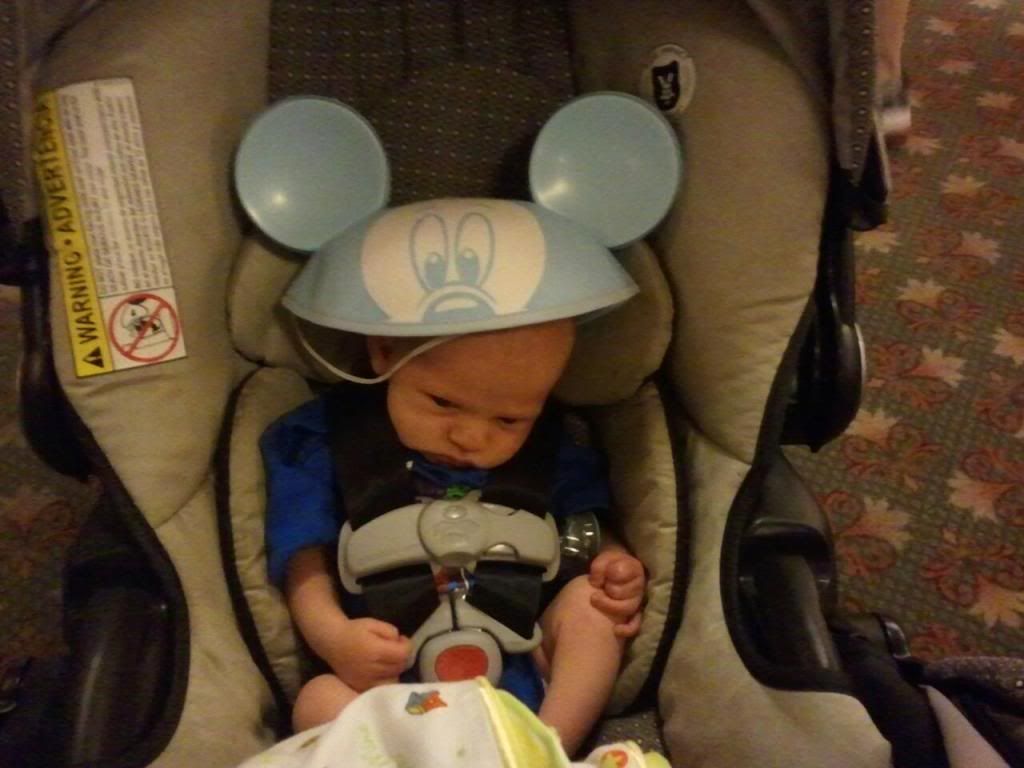 St Patrick's Day, he was not fond of the giraffe thing we put on his car seat, 1 month 2 days old: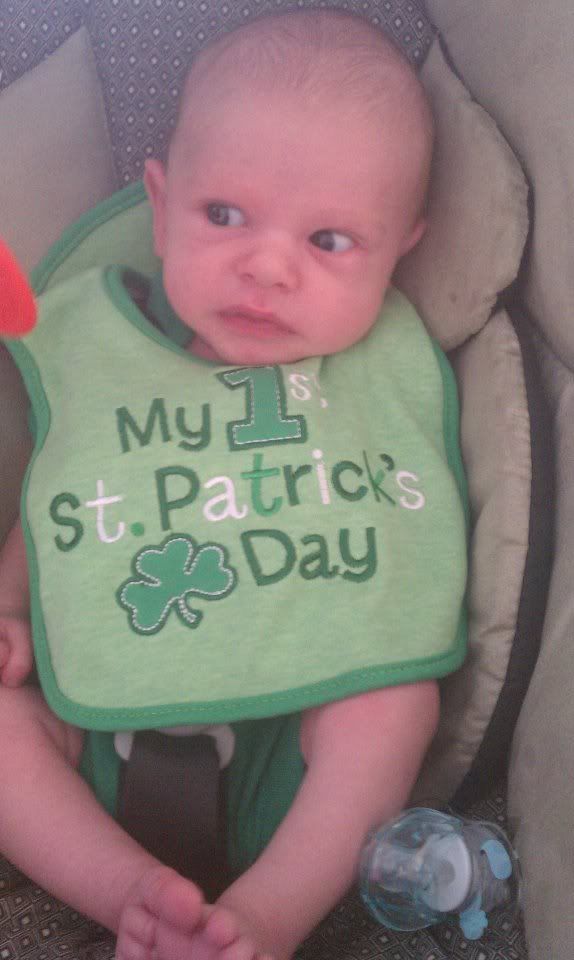 The tail end of a smile, 6 weeks old:
A smile today that I did not squeal at!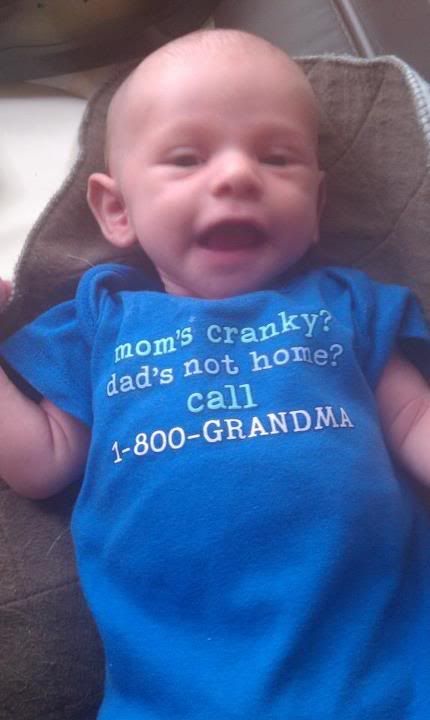 Hubby of kopykat451
TTC #1 5/16/11 = BFP 14 DPI / TTC #2 11/16/12 = No O; 4/12/13= BFN; 6/9/13 = BFP!! (11 DPI) - MC 5wk5dys / TTC#3 3 BFN's and 4th try 10/21/13 = BFP!!!! (Squinter at 10dpi!)