Welcome to our new forum! All existing NW Cryobank forum users will need to reset their passwords. Click forgot password and enter your email address to receive the link. Email us at
[email protected]
with any questions.
7 months old already!
Goobie
Posts: 3,515
Hello everyone! Just popping in to brag about my Munchie for a bit, share some pics, and all that other proud Momma stuff!
Ivy is 7 months old today! She is still SO tiny (compared to my older kids), she is finally wearing size 3-6 month clothing, and the other day I had to adjust the rise on her diapers from the smallest setting to the second to smallest setting. But small as she is, she's TOUGH, and smart! Now that she has been sitting independantly for 3 months, her core muscles are incredible, and she will now do sit ups... if her head is on any incline at all she can sit up from a laying position without using her hands for leverage - it is quite creepy, looks a bit like something out of a bad vampire movie!
Speaking of vampires, we still have no teeth, but red bumps on her gums that come and go where you can see where the teeth will be... as they were a few month back when this started, it's her upper eyeteeth that look like they will come through first.
Not crawling yet either, which is just fine with me ... she gets into enough already! The co-ordination is just not there yet, she gets up on hands and knees, then moves either her hands (and just stretches her legs out behind her) or her legs (and forgets to move her hands, faceplanting into the floor). But she's a rolling, scootching, spinning terror at times, so I'm in no rush to see her actually crawl! She also will pull herself to standing position any time she can get a good grab on anything stationary, be it a laundry basket, the side of the couch, an older siblings leg, the dog ... pretty funny to see, since she's so short, and she tends to get excited that she's up, let go nd topple over, but she'll learn!
Sleep - thats something we don't do. Nothing to brag about there, just for other parents of "wakeful babies" it sucks, I swear it will get better, my older two never slept either. But it pretty much bites while it is happening. She takes one 2 hours nap a day if she is laying ON me. Otherwise naps are 7-12 minutes (not exagerating) and she sleeps no longer then 2 hours at a stretch at night.
Eating - Ivy has a HUGE appitite, and refuses to eat anything bland. no baby food for her! Her favorite foods are: pasta of any type, garlic bread, hummus, red peppers, blueberries, yogurt and popsicles... she doesn't care what is frozen as long as it is frozen, so I puree veggies and fruits amd freeze them in molds for her. She's still breastfed as well, and I'm still pumping for another family too.
So, thanks for letting me brag and update, sorry it ghot so long as usual. Here's a few new pics of my itty bitty pretty one!
Ivy wearing her Uncle Jordon shirt for Relay For Life - even she wants to kick brain cancers butt!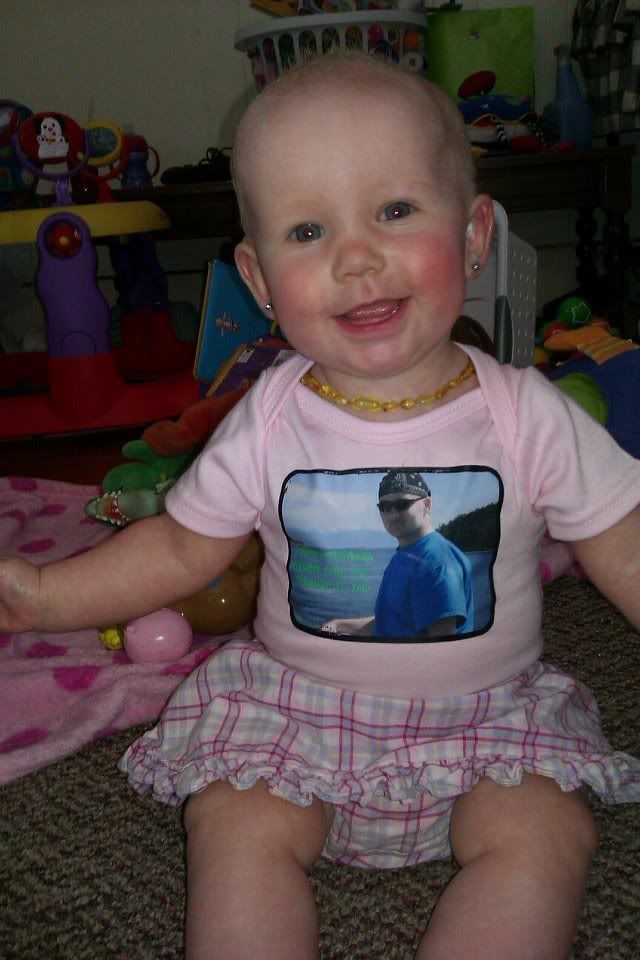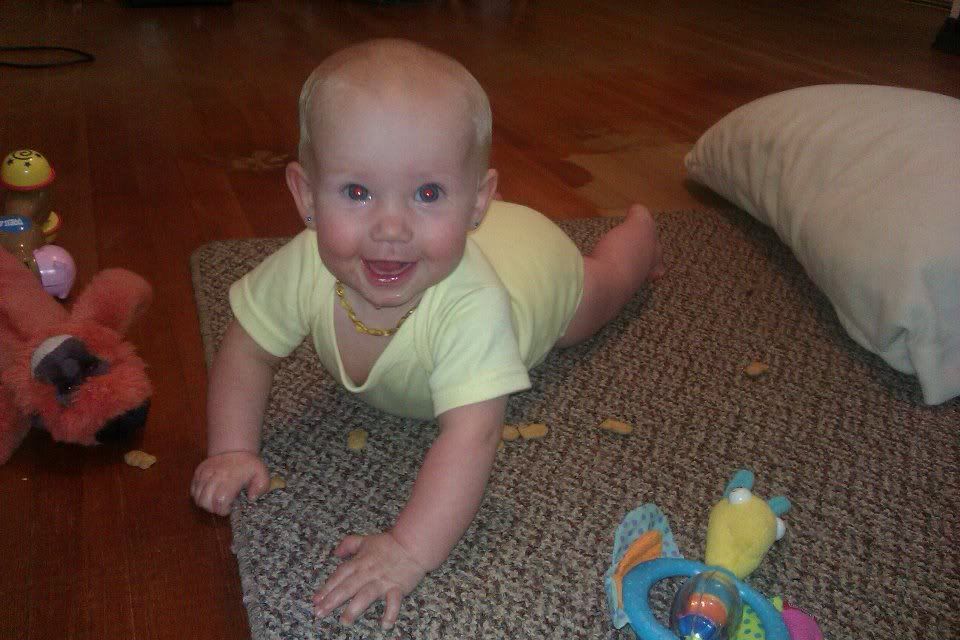 Mmmm, coffee cup!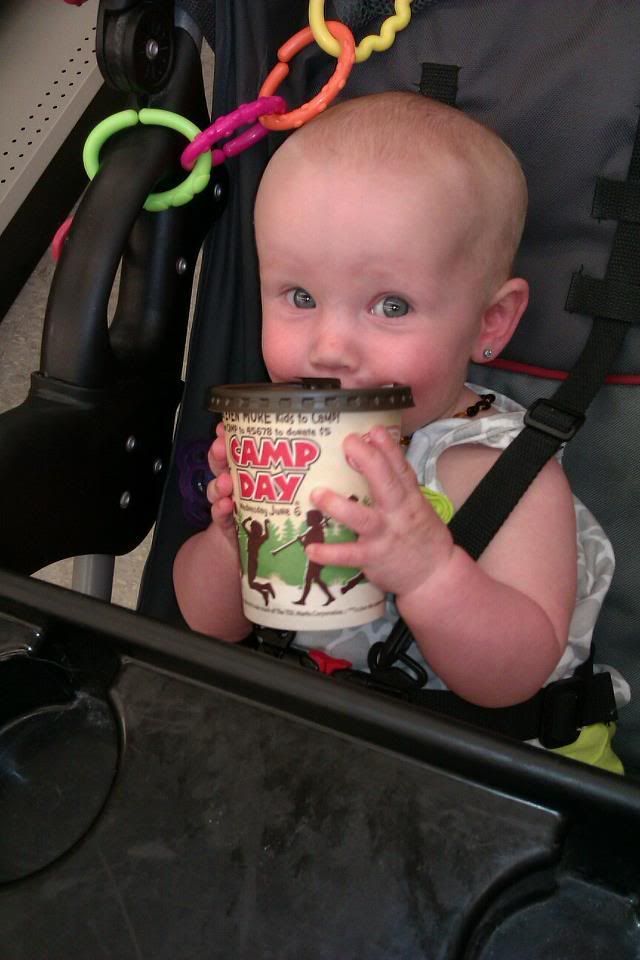 Got into Sissy's bubble gum (no worries, she was being closely watched!)