Welcome to our new forum! All existing NW Cryobank forum users will need to reset their passwords. Click forgot password and enter your email address to receive the link. Email us at
[email protected]
with any questions.
4 Month Update on Stitch! - PHOTO HEAVY!
OneSmallStep
Posts: 1,685
Yesterday Stitch turned 4 months old! Wow, where has the time gone? We spent most of Stitch's 3rd month of life visiting family. We ended up on a month long trip between visiting my family in WI and DW's family in OH. It was a lot of fun, especially seeing how much he grew in personality while we were away. We had our 4 month checkup the other day and he is 23.2 inches long and a 11lbs. He is a small guy, but he is growing along his curve and so the pediatrician isn't worried and neither are we.
He has been teething for about a month and a half now, some days he's more fussy than others. His canine's have been doing this pop in and out thing, which apparently is something my nephew's teeth did as well, some days they are there as a little tiny white dots poking through, others there's nothing. He's working on a few at a time, both the bottom two and the top two seem to be attempting a breakthrough. He loves to chew on everything and is a little drool master. He loves to grab fingers and chew/drool on them.
Before we left we replaced his giraffe toy (that was giving him the bug eye expression cause he was afraid of it,) we went to BRU and showed him all the possibilities until he let us know he liked one. It was really cute actually, he had been sucking on his thumb not wanting anything to do with any of the toys. Then we showed him Mr. Turtle, he took his thumb out of his mouth and gave us a big huge smile, and then went back to sucking his thumb. Since then Mr. Turtle has been his favorite toy. He loves to talk to him, hold him, chew on him, etc. He can go from being upset to totally enamored within just moments of showing him Mr. Turtle.
Oh and as for the trip, he did great. The only time he cried in the car was to let us know he was hungry or if he needed a diaper change. The only time we had an issue was in the mountains he did have a few ear popping cries, so next time we will be sure to have some pumped breast milk on hand! Otherwise, he was a great road trip baby, which is awesome because we tend to do a lot of road trips! He mostly slept or talked to Mr. Turtle and our family dog (who sat in the backseat with him, without any issues also.
Let's see what else is he doing? DW is still ebf'ng, and our plan is to let him let us know when he is interested in food. So far he will watch us eat, but hasn't tried to grab for anything. He also found his thumb in the last month and a half. Since finding it he's not keen on the pacifier at all. It's nice because he can easily self-sooth himself, and puts himself to sleep without any interference from us trying to pop a pacifier in his mouth. We've decided for us we'd rather let him use his thumb, and already have researched ways to help a child move past thumb sucking, so for us we feel it's what works best in our family. :cool:
While on our trip we put him in a borrowed bumbo, he hated it and kept "planking" his way out of it... now that we've been home he's been liking his bumbo though. Also, while away we used my nephew/niece's old walker and he LOVED it. He absolutely loves to stand, and he would just keep standing in the walker and talking and playing with his toys. Now that we are home I put together his activity center and he loves playing with it. We also have an exer-saucer for the office and kitchen area and he loves sit-standing in it as well.
Also a recent development (in the last week or so) he's started sleeping in his crib! Previously we had a snuggle nest that he slept in the bed with us, but he had been working his way down in it and unfortunately I am a heavy sleeper so to prevent any incidents we decided to try the crib again. He seems to really like his crib, though sometimes at night he'll spend 30 minutes just talking to his mobile before he actually falls asleep. Thankfully so far no crying about the crib though!
He's working on sitting up, and rolling. He'll roll from his tummy to his left side whenever he feels tummy time should be over. He's also working on rolling from his back to his stomach, he's just about got it all but moving his last arm from underneath himself. We've done a lot of holding him so he's not behind on rolling, he just hasn't had a lot of time previously to show us he could do it. LOL.
He loves to smile and definitely recognizes us. He is great at mimicking and has mimicked the words: "andit" (Bandit-our dog), "ot-og" (hotdog- we had been talking about dinner) and "hiiiii" (he'll especially repeat/mimick this when he's in a good mood) ... we've also been trying to get him to say Da-da, so far we've just gotten "aa-aa" back, but he keeps watching our mouth and you can see him trying to get the D part down. DW talked early and we are thinking he might as well.
Oh and he loves to read with me, I'll read to him and he just gets a big smile on his face and he looks at the pictures. He's been doing this for about 2 months or so. Especially when I read the books I use to read to him while DW was pregnant.
Okay, I think I've remember everything, and now onto the stuff I know everyone came for... the pictures!
Clockwise:
Top left, his smile when meeting Mr. Turtle for the first time!
Middle top, the first day he started finding his thumb on a consistent basis.
Top right, at the library looking at all the books
Middle, Wearing Daddy's favorite team (Gamecocks); Sleeping in his snuggle nest at a hotel and looking very blonde; showing how well he stands at Nana's office; Diaper change on the road;
Bottom row: sitting in the bumbo for the picture, after he started planking; With the dreaded giraffe toy, notice the bug eyes; Standing in his cousins' walker; At the dog park watching Daddy;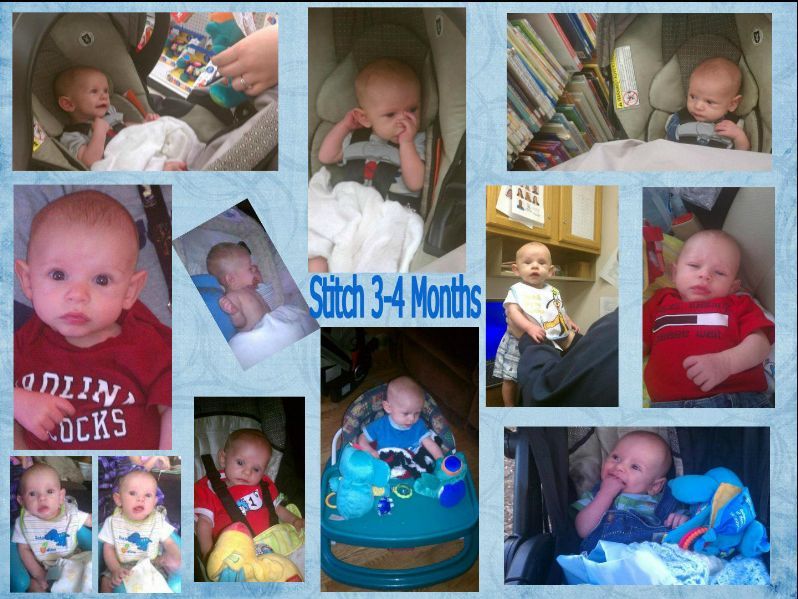 At his first rest-stop, neither him nor the dog would look at the camera
Being Superman at Metropolis, IL - a family tradition!
Sleeping during his Uncle's High School graduation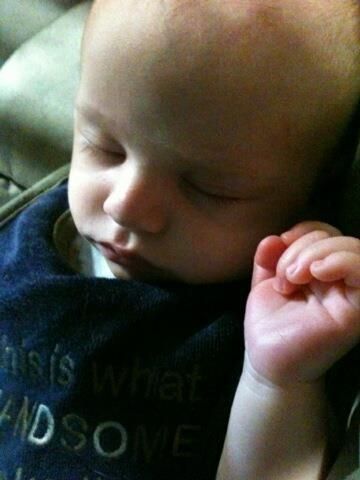 Talking to Mr. Turtle in his exer-saucer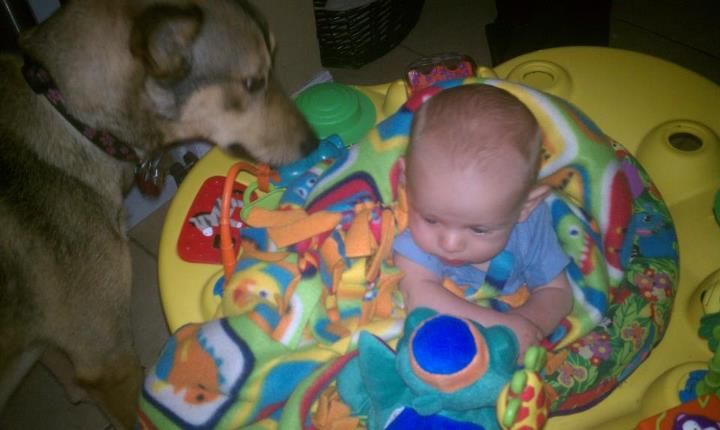 Playing in his activity center, he's just a little short for it so we put the Wii Board under him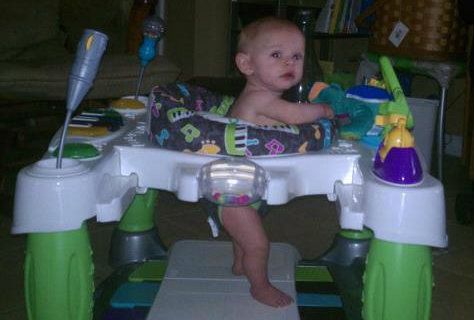 With the family dog,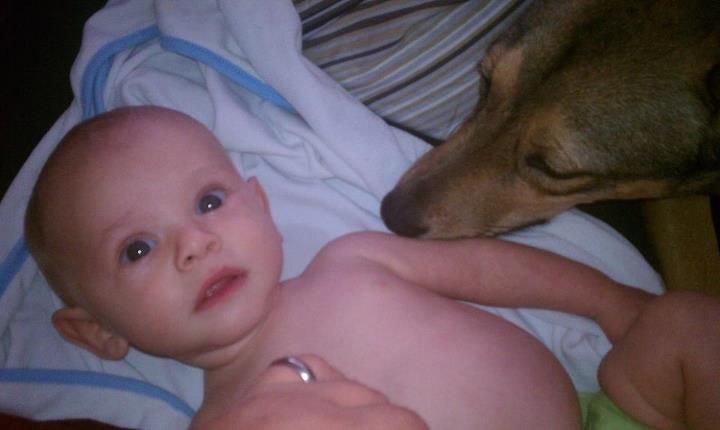 Hubby of kopykat451
TTC #1 5/16/11 = BFP 14 DPI / TTC #2 11/16/12 = No O; 4/12/13= BFN; 6/9/13 = BFP!! (11 DPI) - MC 5wk5dys / TTC#3 3 BFN's and 4th try 10/21/13 = BFP!!!! (Squinter at 10dpi!)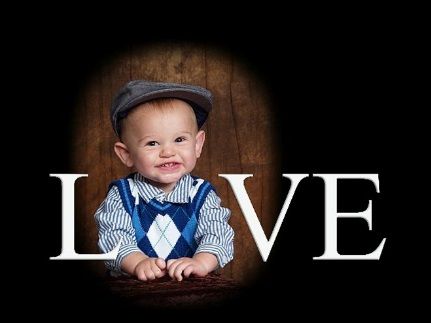 Tagged: